Hadamuscin Homes - Galion, Willard, and Mansfield Property Management, Remodeling, Bug Extermination
About Us
Our company has been a family owned and operated business for over fifteen years.
We are dedicated to serving our customer's needs, and our goal is 100% customer satisfaction. We strive to bring you the best in quality service. If something isn't right, please let us know.
Many clients are referred to us by another satisfied client. Recommendations have allowed us to build a business family unique in terms of character, responsibility, and awareness.
So if you have friends or relatives who would be interested in our services, just use the form below to let us know who they are. We're sure they would appreciate your recommendation and so would we.
Our Business Philosophy
Our aim is to get you the cleanest, most efficient homes to rent and the best value for your dollar while making the decision on your new home purchase as convenient as possible. We aspire to help rebuild your situation...working on helping family's in these tough credit times.

We accept payments at any First Merit bank giving you timely proof of payments for you records. Credit counciling is also available. We work with several affiliate companies to help fulfill your dreams.

Rental guard is a unique program designed to fight inflation and hold rent without increases. We have a unique rent to own program that is designed to allow you to pick out the home you want to buy...during this time we do all the maintenance! So inquire today about our EQUITY BUILDER PROGRAM!

Yes, we accept pets! They are $25 a month and a $250 security deposit.
All our homes have the following:
High Efficient Furnace
Central Air
Programable Thermostats
Security Lights
Updated Electric
No Galvanised Plumbing-Updated
New Antiscald Showers
New Clean Appliances
Dishwasher Available
Updated Kitchens
Updated Bathrooms
Dry Basements
Replacement Windows or Storm Windows
Hardwood Flooring
Gutter Guards
Cable Outlets
Street Parking
Clean
Current Rentals and Homes For Sale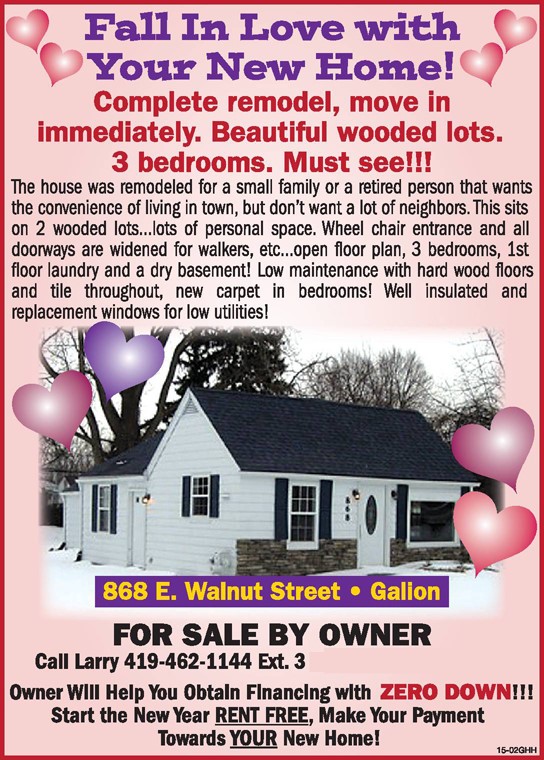 Click here for our Rental Application
Click here for our Required EPA Rental Pamphlet
For fast credit repair we recommend the following service click here

2014 Best of Galion Awards for Home Builders
Call us at 419-462-1144 or fill out our online contact form.