Hadamuscin Homes - Galion, Willard, and Mansfield Roofing, Siding, Gutters
Roofing - Siding - Gutters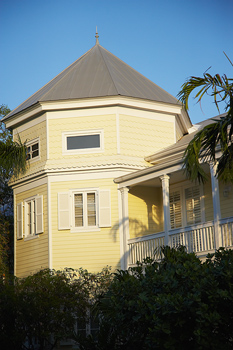 Roof: Your roof is a critical component system in protecting your home, your family and your possessions from the weather. For that reason you want to be absolutely certain that your roof is up to the challenge, with the right materials that are properly installed and maintained by a professional roofing contractor like Hadamuscin Homes. We provide full roofing repair and replacement services. We're experienced and skilled in guiding homeowners to find the residential roofing options that best meet their needs and budget. All roof repairs and roof installations are completed by properly trained craftsman who are dedicated to working on your roof. Our crews are experienced in all types of roof installation and repair, including asphalt or fiberglass shingle, wood shingle, slate or metal roofing systems. We address the roof, gutters, ventilation, flashing, chimneys — all the parts that go into your home's roofing system. We install only the highest quality materials, backed by strong manufacturer warranties and our own workmanship guarantee.
Siding: Siding projects have the second largest return on investment, with a 95.5% percentage of cost recovered on average. Hadamuscin Homes can make your home more appealing and energy-efficient while reducing maintenance time and costs by installing attractive, easy-care siding. Quality siding can also help reduce your monthly energy costs by creating an insulating barrier between conditioned inside air and the outdoor elements. The result is less heat exchange and less energy used to heat or cool your home. Our team of professional and experienced contractors will improve the look and value of your home, specific to your style selections in a timely manner without inconvenience to you and your family.
Gutters: Make sure your home's roof is ready to protect you from the elements! Put your ladder away and let our gutter protection system keep your Chattanooga gutters flowing.
From a light drizzle to a heavy downpour, gutters with guards make sure to protect your home's siding and lower exterior by redirecting the water and not allowing overflow of the water which can damage the exterior of your house. Designed to fit any existing gutter system, they need little to no maintenance! Once Hadamuscin Homes installs the gutters and covers on your home, you can rest easy knowing that your house is safe from water damage because of superior gutter guards. Whether you need a replacement gutter cover system or new gutters and gutter guards call us for a free estimate on the best gutter protection systems in the industry, along with the best service and best warranty around.
Please call our office to schedule a meeting with our Professional Team. Let's see if you qualify for our special 90 Day Same As Cash Offer !!
Call us at 419-462-1144 or fill out our online contact form.